Home / Tesol Jobs /Portugal
TESOL Jobs in Portugal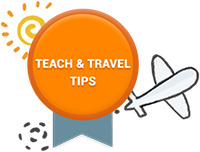 General Information
Portugal is rightly famous for its excellent beach resorts, historic cities, and bucolic villages. Life takes place at a slow pace, in a laidback atmosphere, and there are few European countries where the cost of living is so modest and the quality of life so good.
The country's only language is Portuguese, and English is not widely spoken outside of the main tourist areas where it is very widely spoken. The population of Portugal is a diminutive 10.5 million, so don't expect feel crowded out.
The English language market has several different dimensions and the prospects here for teachers are as good as anywhere in Europe. It is official policy that children begin learning English from a very young age - sometimes as young as three-years old - and teaching young children either in school or in supplementary private classes is a distinct market.
At the other end of the spectrum the Algave in the south is a big draw for British holidaymakers and retirees, and this creates a strong demand for English language tuition.
In the north in the large cities, such as Lisbon, business English is the mainstay and the largest market.
Popular Destinations
The big cities of Lisbon, Faro and Oporto have a great deal to offer in terms of history and culture. The Algarve has great beaches but the slightly disconcerting feel of being somewhere in England - you'll see no shortage of restaurants offering roast beef and Yorkshire pudding! For those wishing to get away from it all there are the Azores, a small chain of islands a 1000 kilometres off shore. For some Portugal's plethora of small towns and little villages may offer the best combination of lifestyle and cost of living.
Teaching
Anyone wishing to teach in a state or private school should expect to have a degree and a TESOL qualification. It is not necessary at present to have a Post Graduate Certificate in Education. In addition, two-year's language teaching experience is preferable but it is seldom a requirement.
With language institutes you can, in the main, expect to find yourself teaching anything from young children to adults, either working in business or the tourist industry. There is general recognition of the advantages of learning English - at least amongst adults - meaning that many of the students are highly motivated.
Most institutes are small family-run businesses and it is the luck of the draw as to whether you wind up teaching tots or business people. You should be ready to teach all ranges from beginner to advanced.
Getting a Job
The British Council is present in a number of cities in Portugal, and is always a good place to stop and ask for advice. As mentioned, most schools are small, family run concerns, so sending out a lot of CVs or resumes may not do much good.
On the spot you would be advised to consult the Portuguese Yellow Pages, to give you some idea of the terrain. In addition to which jobs are sometimes advertised in the Portuguese English language paper. The Anglo Portuguese News. Carding in newsagents, tobacconists and on university notice boards is always a good idea.
Visas and Regulations
Work permit regulations are a little more relaxed in Portugal than in the rest of Europe, and this is good news for non-EU citizens. Though things are tightening up, at present you merely need a letter of employment to get residency. As with EU citizens this can be presented after a three-month stay, along with proof of address. An application can be made at any office of Servico de Estrangerios e Fronteriras, the department which deals with immigration and naturalisation.
Many individuals working for institutes are self-employed, or 'freelance'. Therefore, they are responsible for paying their own tax and social security. New arrivals are required to register with the police, organise a bank account into which their wages will be paid, and get a tax number from their local tax office.
EU citizens will be covered, in the event of sickness or ill health, by the social security system. However, this is a grey area for non-EU individuals. Companies are, by law, required to privately cover employees against accidents at work; however, it makes good sense to have travel insurance to cover you as a contingency.
TESOL Courses in Athens
TESOL Courses in Barcelona
TESOL Courses in Brittany
TESOL Courses in Bundoran
TESOL Courses in Corinth
TESOL Courses in Florence
TESOL Courses in Granada
TESOL Courses in Limerick
TESOL Courses in Malaga
TESOL Courses in Paris
TESOL Courses in Prague
TESOL Courses in Rome
TESOL Courses in Santorini
TESOL Courses in Seville
TESOL Courses in London