STARTBODY
Teaching English as a Second Language (TESOL) can be simply defined as any situation where a native or non-native English speaker is teaching the English language to students whose first language is anything other than English. This is a very common scenario that occurs every day in virtually every country in the world due to the fact that the English language is the number one second language of choice in many areas.
There is no one type of person from one type of background who decides to teach English, just as there is no one classroom environment that awaits those who choose this particular path. For some people it means teaching a few individual students on a part-time basis as a way to add some funds on a gap year adventure, while for others it is a full-time job that provides a comfortable living working from home or abroad.
If any of these scenarios sound perfect for your situation, we first need to clarify what TESOL qualification you will require in order to secure a good quality job in an environment that suits your plans.
TESOL Qualifications
Just a few years ago it was not uncommon for people to land a good ESL teaching job despite their only qualification being the ability to speak English. These days things have changed somewhat as it has become clear to most employers that the ability to speak a language has very little to do with a person's ability to actually teach it to their students. Because of this change of perception, the vast majority of schools, businesses, and language centers now only accept applications from teachers who have some level of official teacher training on their resume. This training is most often represented by a TESOL certification.
TESOL certification can come in various forms, with many differences in study method, length of study, overall expense, and the sort of job you can realistically expect to get at the end of your training. Before you start looking for teaching jobs, whether online, at home, or overseas, you should be aware of all the TESOL qualification options out there to ensure you choose the right one to suit your own circumstances and future plans.

Volunteer English Teaching
Taking the chance to participate in some volunteer English teaching while traveling overseas is a popular option for many TESOL qualified teachers. For many people living in the developing world, improving their English skills can be a realistic way to gain access to better jobs in their home country or the chance to work or study abroad. However, many people in this situation lack the funds to pay for English lessons which is why volunteer teaching programs offer such a great service. If the thought of helping someone to achieve their dreams is something that motivates you, then a spell of voluntary teaching could be the perfect answer.
As the requirements vary from one organization to the next, it is important that you do some research to ensure you meet the criteria. However, one thing that most volunteer programs tend to insist on is some level of TESOL certification. Taking into account the fact that you will not be compensated, or will just receive a small stipend in some cases, most charitable groups are happy to accept a short-format style TESOL qualification that is both affordable and quick to complete. It is also common to receive some amount of 'in house' training on arrival. In most voluntary teaching scenarios, a TESOL certificate of 100 hours or less is typically sufficient.
To ensure you are ready to start teaching straight away, we recommend you complete our 120-hour TESOL certification course as it covers all the most important areas of teaching that you need in order to provide a good service for your students.

Teaching English Online
All forms of education have seen huge increases in uptake online in recent times and online English teaching is no exception. This has been the case for several years, although the COVID-19 pandemic has had a massive impact as many schools worldwide moved their lessons online for significant lengths of time. This strong growth is set to continue long into the future, which is fantastic news for TESOL qualified teachers who like the idea of working from home or teaching while traveling internationally. There are a large number of teaching platforms out there and there will certainly be many more popping up on a regular basis going forward. All this means that there are plenty of great opportunities for online teaching for anyone who meets the requirements laid out by individual online teaching companies.
The requirements specified by online English teaching platforms vary from one to the next, but most will expect you to have completed some level of TESOL certification. At ITTT we recommend our 170-hour course in teaching English as a foreign language with online specialization. This is a popular course option that provides all the basic theory behind English teaching in any classroom environment via an initial 120-hour TESOL course. Once complete, you then move onto the 50-hour course in teaching English online. This section looks at the unique skills that teachers require in this specific area of ESL teaching.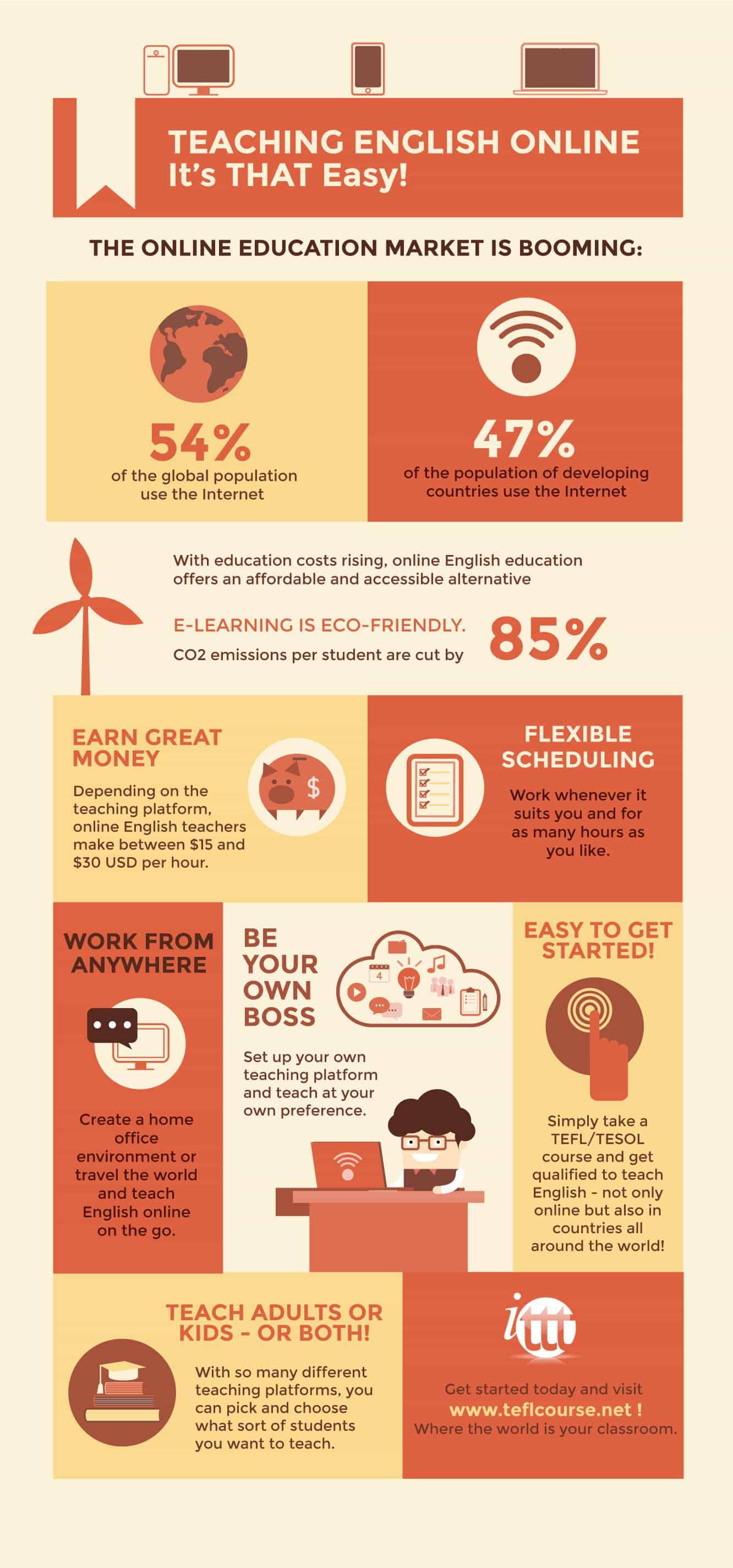 Teaching English In-class
While teaching English online continues to grow in popularity, traditional in-class teaching is still responsible for a large proportion of English lessons conducted worldwide. The number one region for this type of teaching is certainly Asia, where potential job numbers are exceptionally high in countries such as China, Japan, South Korea, Thailand, and Taiwan. Most standard teaching jobs in this region require teachers to possess at least a 100-hour TESOL certificate, with any additional qualifications being a bonus. With an entry-level qualification you should have little trouble securing a well-paid position with a respected employer.
In order to gain this level of TESOL qualification you will have three different study options: an online TESOL course, an in-class TESOL course, or a combined TESOL course. There are a few pluses and minuses with each of these options, so it is important to do a bit of research to ensure you make the right decision to suit your personal situation.
Entry-level TESOL Course Options
If full-time study seems like a difficult option due to existing work or family commitments, then taking an online TESOL course is probably the best option for you. By choosing an online course you will be free to set your own study timetable, without ever having to leave the house. The one clear downside of online course options is the fact that they typically do not include any form of live teaching practice. Despite this limitation, a huge number of TESOL course trainees still feel that this is the best option as it combines convenience and exceptional value for money.
If this sounds like the best approach for you, we would recommend our online 120-hour TESOL certification course, which comes with online tutor support. If you like the idea of also getting some classroom experience before starting work, you can include some additional in-class teaching practice that can be completed in any location you prefer.
In-class TESOL Courses
An in-class TESOL course is well worth considering if you have the time and finances to attend one of our international training centers for four weeks of intense and rewarding training. With this option you cover all the same theory subjects as our online course, however, these classes are delivered by a highly experienced teacher trainer with several years experience teaching English in different classrooms around the world. The second major highlight of this form of study is that you get to spend several hours practicing your teaching skills in a genuine language class populated by real English language learners. This form of teaching practice provides an unrivaled preparation for life in your own classroom of the future.
The in-class TESOL course from ITTT is available in a range of training centers located right across the world. Once you have completed all sections of the course you will be as ready as you can be to start teaching and our dedicated staff will also be on hand to help you secure the first job you need to get your journey under way.

Combined TESOL Courses
This unique course option mixes online and in-class study to provide a third choice of training style. The big advantage of this study option is that the in-class portion of the course is only five to ten days, rather than the four weeks required of a full in-class training course. It also includes the same amount of teaching practice that most trainees find invaluable.
The combined course kicks off with an online study section that covers all the theory of teaching, followed by a short spell of attendance at one of our training centers where you will complete your in-class teaching practice. The online section can be completed at any pace you prefer and you are free to choose which training center you attend. Wherever you find the most convenient training center you can rest assured that you will receive the same high level of training from our team of experienced teacher trainers.
The in-class section of the combined course is available in many locations across North America, as well as in France, Italy, Spain, and Thailand. If this unique form of TESOL training suits your plans, have a look at our combined TESOL course page.

Specialized TESOL Courses
Upon completion of an initial TESOL training course, many graduates decide to add one or more additional certificates to their portfolio of qualifications. Specialized TESOL courses focus on the unique skills and knowledge required by teachers who operate in specific English language teaching environments. This type of course builds on many of the subjects you have already covered in your initial TESOL training to ensure you have the deep understanding required to confidently apply for a wider range of teaching jobs. Teachers who have more than just a basic TESOL qualification on their resume have a distinct advantage when looking for jobs in the more popular teaching destinations, where the competition for the best positions can be particularly high.
If you want to add additional courses to your job applications, we can offer specialized TESOL courses in teaching English to young learners (CETYL), teaching business English (CTBE), and teaching English online (CTEO). All of these courses are 60-hour options that are completed 100% online.
Advanced TESOL Courses
Adding an advanced-level TESOL certification to your list of qualifications is another great option, regardless of your experience level. With this level of certification you will have even more avenues to explore when looking for the ideal teaching position. Often, the very best jobs that offer the best salaries will require applicants to have previous classroom experience and/or an advanced TESOL qualification. At this level, courses typically focus on the theory of teaching and often require a large amount of research in areas such as syllabus design, assessment strategies, classroom material design, and classroom management.
The Diploma in TESOL is the highest level qualification currently offered by ITTT. The course is available to anyone, regardless of where they are at on their TESOL journey, as it starts with our standard 120-hour TESOL certificate course that covers all the basic teaching theory. Once the initial section is complete, you then move onto the advanced diploma stage of the training.
If your future teaching plans involve looking for a job in one of the most popular teaching locations where the competition can be particularly fierce, or you simply want to get your teaching career underway in the strongest way possible, then we would recommend you complete a few different courses to help you stand out from the crowd. By completing multiple TESOL courses you will be able to show potential employers that you are deadly serious about your teaching career and that you really care about providing the highest quality lessons for your future students. Put simply, the more teaching qualifications you have under your belt, the more jobs you will be eligible for. And if you are able to apply for multiple jobs in your chosen destination, you will have a much better chance of securing the one you want the most.
For more information on the course packages available, take a look at our TESOL course bundles page. We currently offer the 220-hour Master Package and the 550-hour Expert Package.
ENDBODY