STARTBODY
Would you like to leave your drab 9 to 5 life behind for a new and exciting career or do you want the chance to earn some extra cash while traveling the world? Whatever your dreams for the future, teaching English at home, overseas, or online could be just the thing to make it happen. Of course, before you book a plane ticket you are sure to have a few questions and we are here to help answer them. But before we get started, let's look at what we mean by TESOL and TESOL teaching.
What is TESOL?
The field of English language teaching seems to have a love affair with acronyms and the one you will probably come across most often is TESOL, which is short for Teaching English to Speakers of Other Languages. This phrase is most often used in American and Australian English to refer to any situation where English is being taught to non-native English speakers. The equivalent term that is most often used in British English is TEFL, which is short for Teaching English as a Foreign Language. Despite there being two different terms, they are both used interchangeably throughout the English teaching community as they essentially mean the same thing.
What is TESOL Teaching?
When it comes to learning an additional language, English is one of the most popular options worldwide with millions of people across all continents learning it in order to secure a better job, move abroad for study or work, or to make overseas travel easier. The people responsible for providing this English instruction are known as TESOL teachers or something similar (TEFL teacher, EFL teacher, ESL teacher, etc).
This type of teaching happens in many different environments, but it can generally be put into two basic categories: traditional in-class teaching and online teaching. Within these two wide categories there are also many other sub-categories.

Register now & get certified to teach english abroad!
In-class TESOL Teaching
Despite the rapid growth of online education, traditional in-class teaching is still responsible for a large proportion of English language classes worldwide. And that is particularly true in many less developed countries where access to computer technology is not always widespread. Within the sphere of in-class TESOL you will find a wide range of different classrooms that you could potentially work in, including:
State schools that cater to children from around 5 to 16 years old.
Private schools that cater to children of a similar age range as above.
Kindergartens that cater to preschool age children.
Colleges or universities that cater to young learners and adults.
Language schools that cater to children, adults, or a mix of both.
Private tutoring, where a teacher is employed to teach one or more students in their own home or office.
Within private companies, where teachers are hired to improve the English skills of that company's employees.
As mentioned, online English teaching has been booming in recent years and it is only going to increase in popularity moving forward. Many of our graduates find that it is by far the most convenient option as it can be fitted in alongside any other existing commitments, providing you have access to a computer and internet of course. This arrangement can also be extremely convenient for teachers who prefer to work from home, rather than heading abroad to an unfamiliar environment. This level of convenience means that teachers are able to teach online as a full-time occupation or they can do a little extra teaching online to top up their main salary. However you choose to do it, you should find you are able to decide how much you work and when you do it, which is rarely the case with in-class teaching.
If you think that online teaching is the way forward, you will find there are two main options to choose from. The most popular option is to sign up with an online teaching platform that might employ hundreds of teachers who provide classes to students right around the world. There are also many platforms that operate in only one country or region. This is a very popular way to teach as the platform you work for will provide you with students to teach and you are typically guaranteed to have a certain amount of teaching hours each week. The main drawback is that there is usually a high level of competition for jobs which means that employers can often afford to pick and choose who they take on. Because of this, a degree is often required if you want to work for the most popular platforms.
Alternatively, you might choose to set out on your own instead. If you go down this route you will need to be patient as it can take time to find enough students, but the bonus is that you are free to dictate your own working hours and you can set your own hourly rate. While this can be a great way to work, many teachers start out by working for an existing company until they have gained the necessary experience and skills to go it alone.
Check out our FAQ: Which platforms hire online English teachers?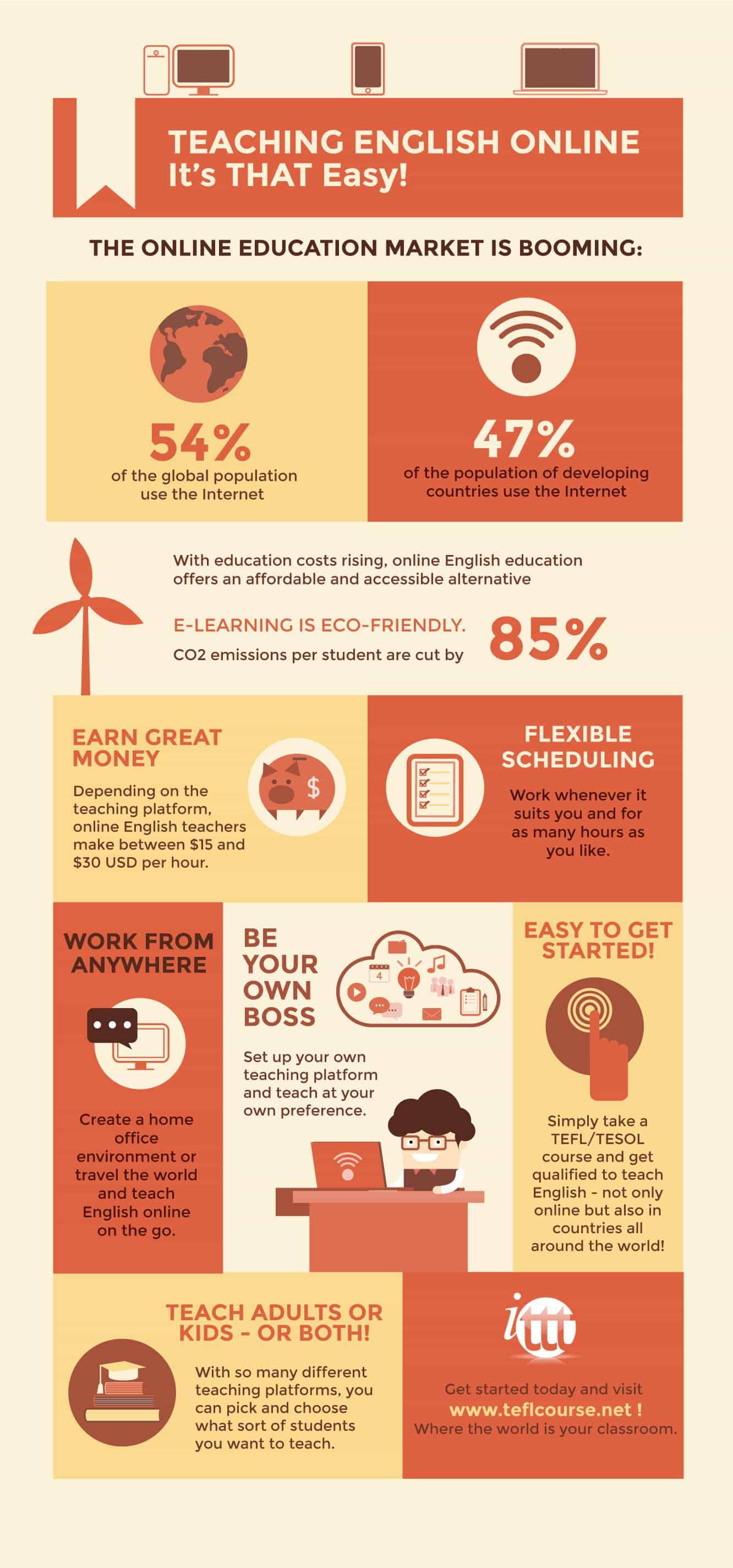 Requirements for TESOL Teaching
1) English Language
Although this might seem rather obvious, the number one requirement for TESOL teaching is having a very solid understanding of the English language. However, it is not necessary to be a native English speaker, you must simply be fluent in both the written and spoken forms of the language. Having said that, you should be aware that in some countries there are rules and regulations that limit teaching jobs to native speakers only. In order to meet this requirement you usually need to have a passport from one of these countries: the UK, the USA, Ireland, Canada, Australia, New Zealand, or South Africa.
Take a look at our FAQ: Where can I teach English abroad as a non-native speaker?
2) Teaching Experience
While previous classroom experience is always welcomed by employers, it is not an essential requirement for the majority of ESL teaching positions. Due to the high demand for TESOL qualified teachers in many regions, it is typically only the most sought after positions that insist on experience in their job adverts. Novice teachers can generally apply for most mainstream positions, while jobs in universities, international schools, and schools with a high opinion of themselves, might be out of reach until you have spent a year or two in a normal teaching job.
Take a look at our FAQ: Can I teach English online without any teaching experience?
3) Degree
While having a degree typically has very little to do with a person's ability to be an effective teacher, it is often a real advantage as it can open more doors when looking for jobs. Many of the most popular TESOL locations such as China, Japan, South Korea, and Thailand, require teachers to possess a degree in any subject in order to qualify for a work visa. However, if like many ESL teachers you do not have one, there is no need to worry as there are still some very popular countries worldwide that have no such restrictions.
Take a look at our FAQ: Where can I teach English abroad without a university degree?
4) TESOL Qualifications
As mentioned above, everyone who wants to teach English in a professional environment must have a strong understanding of all aspects of the English language. The other requirement that is almost always essential in the modern age is a TESOL certification. While it may still be possible to secure a teaching job without any qualifications in a very small number of places, the vast majority of employers in all parts of the world now expect job applicants to have completed some amount of teacher training with a reputable company. This training is most often represented by a TESOL certificate.
TESOL Certificate Levels
It is normal practice for TESOL qualifications to be categorized by the average number of hours they typically take students to complete. TESOL certificates of between 100 and 120 hours duration are generally seen as the minimum requirement by most employers. With this level of teacher training under your belt you will be eligible to apply for most mainstream ESL teaching jobs you come across.
Some jobs you find advertised will be in specialized areas of ESL teaching that will often require an additional specialized teaching qualification. The most common areas of specialization are teaching young learners, teaching business English, and teaching English online. Alternatively, if you like the idea of working towards higher-end jobs that include a higher salary and in many cases increased responsibility, then you can undertake a course such as ITTT's Diploma in TESOL
online TESOL Qualifications for New Teachers
If you have yet to start your teaching career, a good way to get underway is by completing a 120-hour TESOL certification course. This qualification will allow first-time teachers to confidently apply for a wide range of good quality jobs right across the world. By the end of the course you will have learned all of the basic skills and knowledge that employers are looking for when they need to fill a vacancy. Once you have spent six months to a year actually teaching in a real classroom, you should find you are able to pick and choose from an even wider choice of jobs as experience is highly prized by all types of TESOL employers.
In-class TESOL Qualifications for New Teachers
At ITTT we also offer trainees the opportunity to complete their initial TESOL training via an in-class TESOL course at one of our international training centers. If you choose this option you will study the same subjects as an online course, but the training is on a full-time basis over a four-week period. This method of study has many unique benefits that make it a very popular choice. The first benefit is that all the theory is taught in person by one of our highly experienced teacher trainers. This face to face instruction appeals to many people who perform better in a classroom environment, rather than through independent study. The second major benefit of our in-class TESOL courses is that they include several hours of real teaching practice with genuine English language learners.
Check out all our in-class TESOL course options.
By the end of the training course most trainees feel that they are confident in their abilities as a new teacher and ready to get started in their very own ESL classroom. One further benefit of an ITTT in-class TESOL course is that they usually take place in areas where the demand for English teachers is particularly high. In many cases our trainees move straight from their TESOL course into a good quality job in the immediate vicinity of the training center. The potential to make a smooth transition straight into a first teaching job can remove a huge amount of hassle and anxiety that is often associated with the job hunting process.
Combined TESOL Qualifications for New Teachers
On top of our in-class and online TESOL course options, we also have a combined course that mixes some of the best features of these two study methods. The combined course kicks off with an online section that covers all the main theory subjects associated with English language teaching. This section can be completed at your own pace, from anywhere in the world. You will have up to six months to work through the course materials and all you require is an internet connection.
Check out all our combined TESOL course options.
Once you have finished the online study section you then need to attend one of our international training centers to finish the course. The length of this attendance depends on the location you choose, but it will be either five, eight, or ten days. If you choose the eight or ten-day option you will receive around six hours of observed teaching practice (OTP) with constructive feedback from your highly experienced course trainer. If you go for the five-day combined course option you will not undertake any OTP during your visit, but you will have the option of OTP at a later date.
Advanced TESOL Qualifications
If you are at the beginning of your TESOL journey another popular option is to complete an advanced level qualification such as the Diploma in TESOL. This is a great way to start your training as it kicks off with our entry-level 120-hour online TESOL certificate that ensures you gain all the basic knowledge you need. Once this section of the diploma course is complete you have the option to start applying for teaching jobs around the world or online, even before you get started on the following advanced section.
Regardless of whether you start applying for jobs or not, the next section of the course is the advanced diploma study that requires in the region of 250 hours of study that is largely research based. Due to the advanced level of the diploma course, you should expect it to take between three months and one year to fully complete, depending on the amount of time you have to study each week.
Check out all our Diploma in TESOL course options.
Specialized TESOL Qualifications
After completing an initial TESOL certification course many of our trainees then decide to take an additional specialized course that gives them a better chance of working in the unique areas of ESL teaching that appeal to them. The most popular areas that often require specialized qualifications are teaching English online, teaching English to young learners, and teaching business related English. TESOL qualified teachers who have one or more of these additional qualifications on their CV/resume will find they have an increased number of options in the job market and an extended understanding of the field of ESL teaching, which is a real bonus for both the teacher and the students they teach in the future.
Check out all our specialized TESOL course options.
Multicourse TESOL Bundles
If value for money is important to you, you cannot go wrong with our great selection of TESOL course bundles. By taking a multi-course bundle you will start your teaching career with a real advantage over the competition and many more potential job options than TESOL graduates with only a single qualification. As well as having more job options and a better looking CV/resume than most other job applicants, graduates of our multi-course bundles will find they have a much greater understanding of how the English language works and a better understanding of how to teach it effectively in the classroom. All of this means that you are likely to stand out from the crowd when applying for teaching jobs and your initial teaching experience should be significantly less daunting than it might otherwise be.
Check out all our TESOL course package options.
Post-graduation
No matter which type of TESOL course or courses you choose to sign up for, the next stage for the majority of our graduates is to start the job application process. If you have yet to look into ESL jobs you will be glad to hear that the demand is very high in many countries and vacant positions can be found in almost all corners of the world. The Asian region has some of the largest markets for TESOL qualified teachers and as long as you meet the criteria specified you should have no trouble finding something suitable in many countries including China, South Korea, Japan, and Taiwan.
The largest salaries in the TESOL world are typically found in the Middle East region and these jobs are usually tax free and often include a range of added extras, such as free accommodation, paid airfares, health insurance, and an end of contract bonus. However, before you book your plane ticket to Dubai it should be noted that many of these positions will be highly sought after and will therefore require at least a year of previous teaching experience.
Latin America is another popular option for many teachers, particularly those from North America as the time zones are similar and the distances to get there and back are less than other parts of the world. There are also plenty of great options for those who want to head to Europe to teach, with countries such as Spain, Italy, and France being just as popular now as they have always been. Outside of these popular regions there are countless other countries where smaller numbers of teachers head to if they want to face less competition in the job market. These areas are also popular with teachers who prioritize adventure as an integral part of the TESOL experience.
We should also not forget that many TESOL course graduates choose not to head overseas to find work. It is very common for newly qualified teachers to stay within their home country where they can find jobs teaching English online or through local language centers, charities, or other businesses. Some people use this period as a way to gain valuable teaching experience before heading overseas, while many others never plan to teach abroad at all.
Applying for TESOL Jobs
One very handy benefit of choosing ITTT for your TESOL training is that we provide a wide range of post-course services to all our graduates for as long as you remain in the field of ESL teaching. A combination of your own hard work and our years of experience means you should have plenty of great jobs to choose from wherever you plan to live and work. Our post-course job services include all sorts of assistance, such as:
Access to our database of potential employers
Exclusive leads on unadvertised jobs
Advice on constructing a high-quality CV or resume
Advice on writing cover letters
Assistance with planning trial lessons for job interviews

For further information on all aspects of TESOL, we recommend taking some time to look through our FAQ section which features a vast number of questions that are commonly asked by our course trainees and graduates. You will find sections on TESOL courses, where to find teaching jobs, the salaries you can expect to earn, and all manner of other things that you might find useful.
Another helpful section to take a look at is our TESOL Jobs Page which features a wide range of job adverts from around the world. Here you can get an idea of what is available and what is involved in applying and interviewing in the areas you are interested in
Where to Find Vacant TESOL Jobs
TESOL teaching jobs can be found all over the world, but there isn't one best method when it comes to looking for them. A good place to start is generally job boards and teaching forums that can be found online via a simple Google search. Type in TESOL job boards and you should find plenty of sites to take a look at. One of the longest running sites that we are happy to recommend is Dave's ESL Cafe, which always has a wide selection of job options for you to browse through.
Recruitment Companies
Recruitment companies are another popular option for finding ESL teaching jobs worldwide. International employers pay these companies to fill their vacant positions which means it won't cost you a penny to use their services. One of the most popular benefits of this route to employment is that all the arrangements can be made before you leave home. The company will also take care of all the necessary paperwork which can save you a considerable amount of hassle when planning your trip.
One small downside of this option is that you need to do a bit of research before deciding on a company to go with to avoid any potential scams. There are plenty of reliable and honest recruiters out there, but it is wise not to jump in until you are sure it is all above board. One way to be sure of getting a good service is to go with one of the recruitment companies that ITTT work closely with. We have developed excellent working relationships with some of the best in the business and we will gladly put you in touch with them once you have completed your TESOL certification.
National Recruitment Programs
Another common path towards TESOL teaching is to apply for one of the many national recruitment programs that can be found in countries around the world. These schemes are typically run or sponsored by local governments which means they are stable, well organized, and extremely popular. There are several to choose from, but the most well known are the JET Program in Japan, the EPIK Program in South Korea, and the Cultural Ambassadors Program in Spain. All of these programs employ a large number of foreign teachers every year, however, you will need to meet the requirements laid out by each program in order to qualify. Other countries that operate similar programs include France, Hungary, Chile, and Hong Kong.
For more details take a look at the Jobs Assistance section of our FAQ page.
Get Your Dream Started
After you have chosen a TESOL course to suit your plans, worked through all of the materials and assessments that go with it, and found some suitable jobs to apply for, you will be ready to get your new adventure as a TESOL qualified teacher underway. Your path may take you to Asia, Europe, or Latin America, or you might decide that working online or for a school in your home country is the best way to go. Regardless of the route you take, once you set off you are unlikely to look back. In fact, you are more likely to wonder why you didn't get started on your TESOL journey sooner!
ENDBODY