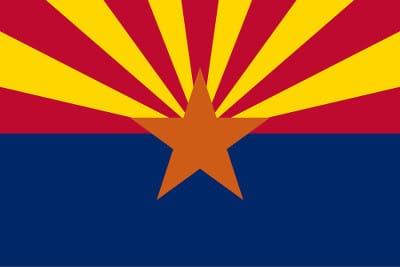 Due to a long history influenced by a booming copper industry, the state of Arizona was nicknamed 'The Copper State'. Today, it is one of the most popular places to visit in the country with a great selection of natural sites and attractions. The most famous is probably the Grand Canyon National Park. Every year, millions of visitors come to explore the spectacular canyon carved out by the Colorado River. Since 1979, the Grand Canyon has also been a UNESCO World Heritage Site, and is one of the oldest national parks of its kind in North America.
Another example of Arizona's beauty is Sedona National Park, where wind, water and time have formed sandstones that glow in hues of orange and red. Besides the unique stone formations, the national park also has a collection of waterfalls where you can take a cooling swim. Oak Creek Canyon is another popular spot where wide expanses of greenery create a lusher ambience compared to other canyons. Visitors to the parks can also engage in a range of different activities, such as biking, hiking, and horseback riding. The more adventurous can also try rock climbing.
As you can see, Arizona is a true paradise for outdoor lovers. Not only do the many canyons offer exciting hiking and biking trails, but Arizona's many beautiful rivers and lakes also provide a great venue for water activities. Visitors and locals can enjoy kayaking, fishing, jet skiing and swimming. White water rafting is another option for those looking for a more thrilling adventure.
The city of Tucson could be the perfect location to shoot a Wild West movie. However, you will also find relaxing resorts, golf courses and abundant shopping facilities. The city's fine culinary scene has earned Tucson the title 'UNESCO City of Gastronomy', one of the first of its kind. The city of Cottonwood is another culinary gem where top quality wine making is possible due to the rich soil and favorable climate. Wine tasting among the vineyards is the order of the day in this area of the state. When in Cottonwood, be sure to stop by Oak Creek Vineyard, Javelina Leap Vineyard or Alcantara Vineyard. These family-owned wineries will be happy to serve you.
The city of Phoenix is the largest in the state and an interesting place to visit. Shop at Kierland Commons or Biltmore Fashion Park to get the best deals, while a range of luxury resorts offer the perfect place to unwind and escape the hustle and bustle. OdySea Aquarium is home to sharks, turtles, penguins, jellyfish, octopus and more. Other popular attractions in Phoenix include Frank Lloyd Wright's winter home and the Musical Instrument Museum.
Besides being a premier vacation destination, Arizona is also a great place for your studies. Northern Arizona University has 36 different campuses across the state and offers some of the best programs in the region. Taking your TEFL/TESOL course in Arizona will enable you to start an international career teaching English as a foreign language. Sign up for our training course today and become a qualified English language teacher.