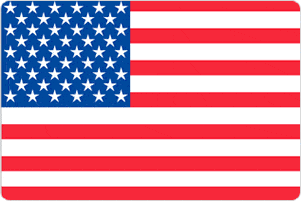 Our course in Arizona is based in the city of Phoenix, the modern and lively state capital. Its location within the boundaries of the Sonoran Desert means the city enjoys a warm and dry climate throughout the year, and it is also ideally situated for enjoying the many amazing national parks to be found in this part of the country. Whether you are a fan of the great outdoors, or prefer more laidback pursuits, you are sure to enjoy your time on our TEFL/TESOL course in Phoenix, Arizona.
The modern history of Phoenix began with the founding of the city in the 1860s, and since that time it has grown into the most populous state capital in the whole country. The city continues to grow year on year as thousands of people move here from right across the country in search of a more comfortable way of life. The city is also a popular tourist destination, particularly with those who use it as a base for visiting the region's national parks which include the world famous Grand Canyon. Within the city limits you will also find plenty of things to keep you busy, from a night out at a major league sport to relaxing in the peaceful surrounds of the Japanese Friendship Garden.
Due to extensive migration to the city over many years, Phoenix is home to people from all corners of the world. This wide diversity has led to one of the largest selections of international cuisine to be found anywhere in North America. For breakfast, lunch and dinner, visitors to the city can enjoy a huge choice of food from French, spanish and Italian, to Vietnamese, Thai and Korean. Although you can find cuisine from dozens of different countries, the city is still best known for its love of all things Mexican. Right across the city you will find countless outlets offering delicious meals and snacks that originate from south of the border. Whatever your reason for choosing Phoenix as your destination for completing our TEFL/TESOL course, you certainly won't go hungry during your stay.
Register now & get certified to teach english abroad!
The School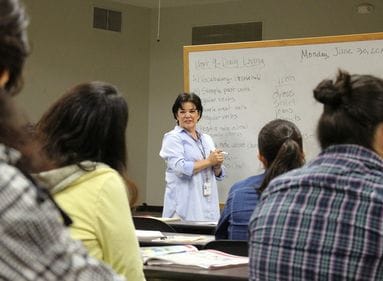 The in-class section of the Phoenix course is completed in a genuine language center that provides the perfect environment for teacher training, all within a stone's throw of the busy downtown area. The school's central location means it is also easy to reach from the city airport and within a short bus journey of most of the area's main attractions. The training center has several modern classrooms that are specifically designed for language teaching, as well as all the things you will need for planning and delivering lessons including a well-stocked resource library, photocopying equipment and Wi-Fi access.
In the local neighborhood you will find a variety of shops and other amenities, while on-site we have a small refreshment area with complimentary hot and cold drinks. During the course you will be guided by highly experienced trainers, and to make sure everyone receives the same high-levels of personal assistance, we limit the number of participants on each course. In-class training at our Phoenix center normally runs from 5:30 p.m. to 10:00 p.m. Wednesday to Friday and from 9:00 a.m. to 5:00 p.m. on Saturday and Sunday.
Accommodation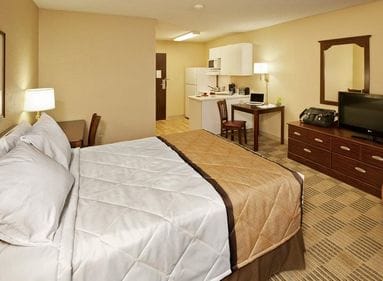 If you plan to travel to Phoenix to complete your training course and require accommodation during your stay, you will find a wide choice of options right across the city. One option that we are happy to recommend is a range of apartment-style accommodation that is ideally situated close to our training center and within a short distance of the city airport. Public transport links are also easily accessible from the accommodation so you are never far from all the main points of interest in the area.
Our recommended accommodation provides comfortable and affordable rooms that all come with the added bonus of a private kitchen. Having the use of your own kitchen means you can significantly reduce your overall budget, which is one reason why this option has been popular with many of our previous trainees. As well as all the necessary appliances such as a refrigerator, stovetop, microwave, and coffee maker, each room also includes a complimentary breakfast and access to Wi-Fi and laundry facilities. More in-depth information regarding all aspects of the course will be provided once your booking is confirmed.
Course dates

Coming soon...
We are presently in the process of establishing a new course in Phoenix Arizona and therefore there are currently no dates available for this location. We anticipate that the course should be running here within the next 6-8 months. If you would like to attend a course at this location, please let us know and we will send you full information you as soon as the course dates are finalized.
Please check out our other course locations if you wish to attend a course before this one becomes available...
Course fees
The total price is divided into: deposit and balance.
The deposit may be paid via a) credit card b) Paypal c) wire transfer d) Western Union.
The balance of the course fee must be paid by cash, PayPal or bank transfer directly to the training center on the first day of the course.
Deposit
US$ 700
to be paid in advance
+
Balance
US$ 595
to be paid on arrival
Accomodation Fees
The accommodation fees are not part of the course price and you are free to choose whichever accommodation option you prefer.
You are not obliged to use the accommodation provided by the school and you are welcome to make your own accommodation arrangements. If you choose to use our accommodation, it should be paid for either by cash, PayPal or bank transfer directly to the school at the start of the course.
per night
US$ 59
(to be paid on arrival)