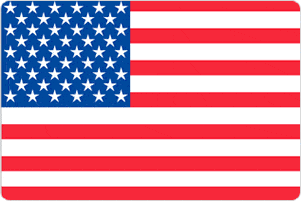 As the biggest city in the united states, New York's influence stretches far beyond its home country's borders to regions all around the globe. Indeed its influence can be felt in finance, commerce, media, entertainment and fashion, while its importance on the world stage is embodied by its role as headquarters of the United Nations. On a more local level there are a seemingly never ending number of things to see and do in the city and it is a fantastic place to take your TEFL/TESOL certificate course.
Although originally settled by Europeans 400 years ago, it was not until major upheavals back in Europe in the middle of the 1800's that New York City really started to grow in size and influence. The city's population swelled with immigrants flooding in from Ireland escaping the famine that was gripping the nation, others were fleeing social unrest on mainland Europe. New York's population has continued to grow since then and it has now become one of the largest and most ethnically diverse urban populations in the world, with over one third of its residents born outside of the United States and around 800 different languages spoken by the city's inhabitants. With such a diverse population drawn from all over the world it is easy to see why it was chosen to be the home of the United Nations.
As with any large city there are a huge number of things to see and do in this thriving metropolis. With a skyline as famous as the city itself any visitor will be sure to visit the icons of 20th century Art Deco architecture, with the Empire State Building and Chrysler Building two of the most well known. Once the first sight that greeted new arrivals to the city, the Statue of Liberty is another must see, as is the hectic Times Square. Escape the hustle and bustle and spend a quiet afternoon in Central Park with its large number of attractions including boating, horse carriage rides and even rock climbing. Shopping is of course another popular pastime in New York City and there are options to suit all budgets, from high-end fashion stores to street sellers. For theater lovers all the latest and most famous shows can be caught on Broadway, while music fans are spoilt for choice with countless music venues all over the city catering for every possible taste.
Wherever you are from there is something for you in New York City, whether you like to spend your time seeing the sights or watching the latest Broadway spectacular you will not be disappointed in New York. When it comes to study time our trainers are here to help you finish the course feeling well prepared for your first job as a qualified English teacher. With all this in mind it is easy to see why our New York City TEFL/TESOL course is one of our most popular courses year after year.
Register now & get certified to teach english abroad!
The School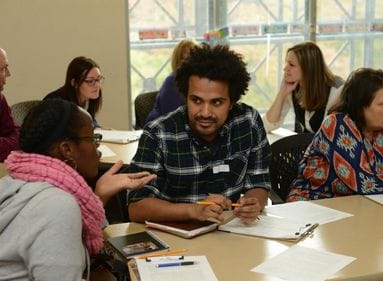 Located in midtown Manhattan, our TEFL/TESOL course in New York City is the perfect place for anyone looking to take their teaching course in a truly global city. The training center is ideally located for access to all of New York's major attractions including famous landmarks, world class theaters and fantastic shopping. In the area immediately surrounding the center you will find any number of New York delis and pizza shops, not to mention the world famous Madison Square Garden.
The New York City course takes place in a working English school making it the perfect environment for learning how to teach English. There are 14 comfortable classrooms that are equipped with all the resources you will need while taking the course with us. Facilities on hand at the school include a photocopier, a well-stocked resource library, wireless internet and an area for making tea and coffee. Classes are offered year-round during the third week of the month.
Our New York courses are kept small to ensure that each trainee receives the maximum individual support from our teacher trainers. The combination of our well-equipped school, dedicated staff and excellent location right in the heart of the thriving 'Big Apple' make our TEFL/TESOL course in New York City the perfect place to start your teaching career.
Accommodation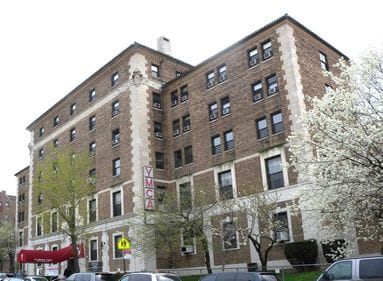 The popularity of New York City with people from all over the world means that it has a huge amount of accommodation to offer its 50 million annual visitors. You can choose to stay in any style of accommodation that suits your preference, or you can choose one of our two recommended options. Both options are well situated within the immediate vicinity of the training center and offer a comfortable and affordable stay. The YMCA Guesthouse has a choice of rooms, as well as excellent facilities including swimming pool, fitness center, onsite café and Wi-Fi internet. The surrounding neighborhood is also a great place to hang-out and enjoy the vibrant atmosphere of the city.
We also recommend a range of one or two bedroom apartment-style rooms in the same area. All the rooms have a private bathroom and a well-equipped kitchen area, plus access to a fitness room, laundry facilities, free Wi-Fi and daily housekeeping service. All our trainees are eligible for discounted room rates at both of our recommended options when booked through our New York training center. Full accommodation details will be available once you complete your course registration.
Course dates

Coming soon...
We are presently in the process of establishing a new course in New York City and therefore there are currently no dates available for this location. We anticipate that the course should be running here within the next 6-8 months. If you would like to attend a course at this location, please let us know and we will send you full information you as soon as the course dates are finalized.
Please check out our other course locations if you wish to attend a course before this one becomes available...
Course fees
The total price is divided into: deposit and balance.
The deposit may be paid via a) credit card b) Paypal c) wire transfer d) Western Union.
The balance of the course fee must be paid by cash, PayPal or bank transfer directly to the training center on the first day of the course.
Deposit
US$ 700
to be paid in advance
+
Balance
US$ 595
to be paid on arrival
Accomodation Fees
The accommodation fees are not part of the course price and you are free to choose whichever accommodation option you prefer.
You are not obliged to use the accommodation provided by the school and you are welcome to make your own accommodation arrangements. If you choose to use our accommodation, it should be paid for either by cash, PayPal or bank transfer directly to the school at the start of the course.
per night (average)
US$ 65
(to be paid on arrival)