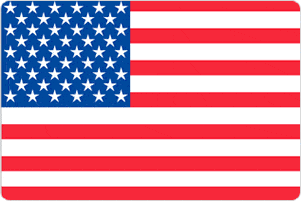 Famously known as the 'Entertainment Capital of the World', the extraordinary city of Las Vegas needs no introduction. Surrounded by the vast expanse of the Mojave Desert in the state of Nevada, Las Vegas enjoys a pleasant climate year-round, which is perfect for the millions of visitors who flock here every year. At the heart of the city you will find dozens of world famous casinos and resorts that offer a wide variety of extravagant entertainment in their theatres and nightclubs. The city also boasts countless restaurants, cafés and bars, as well as some of the best shopping opportunities to be found anywhere in the country. With such a wide appeal to all ages, Las Vegas is understandably a popular choice for completing our TEFL/TESOL course.
The city was founded over 100 years ago, but its rise to fame as one of the world's leading tourist destinations didn't really begin until the 1950s when it quickly earned the nickname 'Sin City' due to its image of gangsters and gambling. In the following years the city has continued to boom by cleaning up its image and developing into a resort town that has something for everyone. Although the bright lights of the major casinos such as Caesars Palace and the Mirage are still the main draw for many, you will also find a huge variety of entertainment on offer including hit Broadway musicals, dazzling magic shows, and live concerts by the biggest stars in music.
Most visitors to Las Vegas also take the time to enjoy some of the famous free shows that can be found in and around the big casinos. The Fountains of Bellagio, the Erupting Volcano at the Mirage and the Fall of Atlantis show at Caesars Palace are all well-worth a look. The city's vast shopping malls are also worth a visit, only in Vegas will you find exact replicas of famous Parisian streets and the canals of Venice, all lined with hundreds of huge retail outlets. With all these attractions available round the clock, you are never likely to be bored in this bustling, unique city, which is one of the many reasons why our training center in Las Vegas is consistently a popular option.
Register now & get certified to teach english abroad!
The School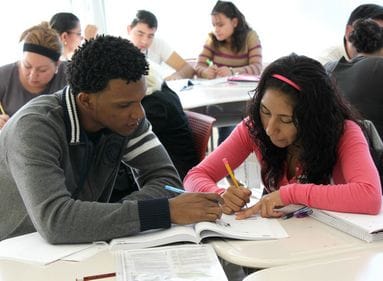 Our TEFL/TESOL course in Las Vegas is based in a modern language center that is very conveniently situated within a few blocks of the bustling downtown area. Thanks to this great location you will always be within a few minutes of all the city's main hot spots including the famous Las Vegas Strip, the busy Fremont Street area, and major transport hubs such as McCarran International Airport. Our central location also means that we have plenty of amenities in the vicinity of the school, as well as our onsite refreshment area where you can grab a complimentary drink between classes.
Our training center consists of several well-designed classrooms that are comfortable even during the hot summer months. Throughout your stay you will have access to our Wi-Fi network, photocopying equipment and a useful resource library. As the course is based in a real language center it enjoys the perfect atmosphere for learning, and to maximize the attention you receive from our trainers we also ensure that course numbers are kept low. During the course class times are generally from 5:30 p.m. to 10:00 p.m. Wednesday to Friday and from 9:00 a.m. to 5:00 p.m. on Saturday and Sunday.
Accommodation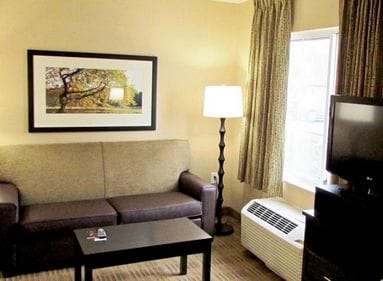 As a hugely popular destination for tourists from all over the globe, Las Vegas has plenty of accommodation options. Although the city is home to at least 15 of the 25 largest hotels in the world, you will also find plenty of smaller, budget friendly options to choose from. If you would prefer some help in making a choice, our training center can recommend a popular option that is well situated close to the school building, as well as within a short walk or bus ride of some of the biggest attractions in the city.
If you choose our recommended accommodation you will stay in a comfortable apartment-style room that includes a kitchen area for preparing your own meals. This great money saving feature includes all the basic appliances such as refrigerator, stovetop, microwave and coffee maker, as well as all the utensils you will need during your stay. The price of the room includes breakfast and access to the swimming pool and fitness center. You will also find other services such as internet access and laundry facilities onsite. Once your place on our Las Vegas course has been confirmed, we will contact you with full details of our recommended accommodation.
Course dates

Coming soon...
We are presently in the process of establishing a new course in Las Vegas Nevada and therefore there are currently no dates available for this location. We anticipate that the course should be running here within the next 6-8 months. If you would like to attend a course at this location, please let us know and we will send you full information you as soon as the course dates are finalized.
Please check out our other course locations if you wish to attend a course before this one becomes available...
Course fees
The total price is divided into: deposit and balance.
The deposit may be paid via a) credit card b) Paypal c) wire transfer d) Western Union.
The balance of the course fee must be paid by cash, PayPal or bank transfer directly to the training center on the first day of the course.
Deposit
US$ 700
to be paid in advance
+
Balance
US$ 595
to be paid on arrival
Accomodation Fees
The accommodation fees are not part of the course price and you are free to choose whichever accommodation option you prefer.
You are not obliged to use the accommodation provided by the school and you are welcome to make your own accommodation arrangements. If you choose to use our accommodation, it should be paid for either by cash, PayPal or bank transfer directly to the school at the start of the course.
per night
US$ 69
(to be paid on arrival)