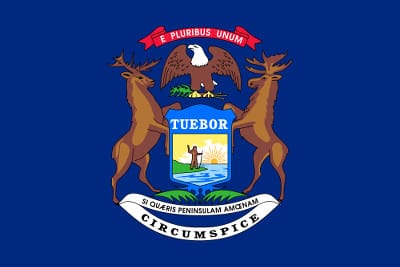 Michigan is a unique state that consists of two peninsulas divided by the Great Lakes, which is why it is known as 'The Great Lakes State'. Every year, millions of people come to Michigan to enjoy the beautiful natural scenery. The Upper Peninsula is full of exciting places for hiking, trekking, fishing, boating and horseback riding. Around the many lakes, rivers, and streams, you will find some of the most breathtaking trails in the country. Visitors also have the option to rent off-road vehicles to check out the natural wonders on four wheels. Whatever you are looking for, you will find it in Michigan.
The state of Michigan has six state forests, four national parks, and almost a hundred state parks, so stunning natural scenery is never far away. Whichever area you choose to visit, keep a look out for hares, deer, and other forest animals. As well as wildlife, the parks contain a wide array of interesting sculptures, landmarks, and museums that you might want to visit. The parks are also the ideal spot for watching the sunset, or star gazing after dark.
Michigan is also the perfect location for winter activities. The state is famous for having over 6,500 trails, ideal for snowmobiling, cross-country skiing and winter hikes. Downhill Skiing and snowboarding is possible at over fifty unique ski areas where you will find 260 lifts and over 1,000 slopes for beginners and advanced skiers. More than 3,000 miles of special trails also make it possible to enjoy cross-country skiing, while thousands of lakes freeze over, ensuring that ice-skating and ice hockey are available.
As you can see, Michigan is worth a visit during all four seasons. Spending some quality time outdoors, there is always something new to see. However, Michigan is also home to many historical attractions, as well as waterparks, wineries, zoos and lighthouses on the Great Lakes. Mackinac Island is one of those interesting places you should visit when in Michigan. Here, horses replace cars and time seems to go by slower. Most businesses and restaurants on the famous island are family owned adding to the unique charm. Mackinac Island is also popular due to the many sites and attractions from the Revolutionary era.
While millions of people come to Michigan for its' beautiful natural scenery, many others are lured to the state because of its' high-quality educational institutions. When you come to Michigan for your TEFL/TESOL course, you will graduate with an internationally recognized certification, enabling you to start a successful career in teaching English as a foreign language.