What is TESOL?
TESOL stands for Teaching English to Speakers of Other Languages. Other acronyms are often used within the English teaching world, such as TEFL (Teaching English as a Foreign Language), TESL (Teaching English as a Second Language), and ELT (English Language Teaching). However, in terms of teaching English abroad, they are often used interchangeably.
<>With an ITTT TESOL academy
accredited
TESOL course you can acquire all the specialist skills and knowledge required to become a qualified teaching professional and teach in almost any country in the world.
Many of the most popular countries for teaching English abroad require teachers to hold a TESOL certification in order to obtain a work visa or work permit. The recognized worldwide standard qualification for teaching English to non-native speakers is known as either a TEFL or TESOL certificate.

Am I eligible to take a TESOL academy course?
Providing you are willing to learn and are over the age of 18 years, you are eligible to take one of our courses. All our introductory level courses are designed to be taken with no previous experience in teaching or specific qualifications.
What do you need to be able to teach English around the world?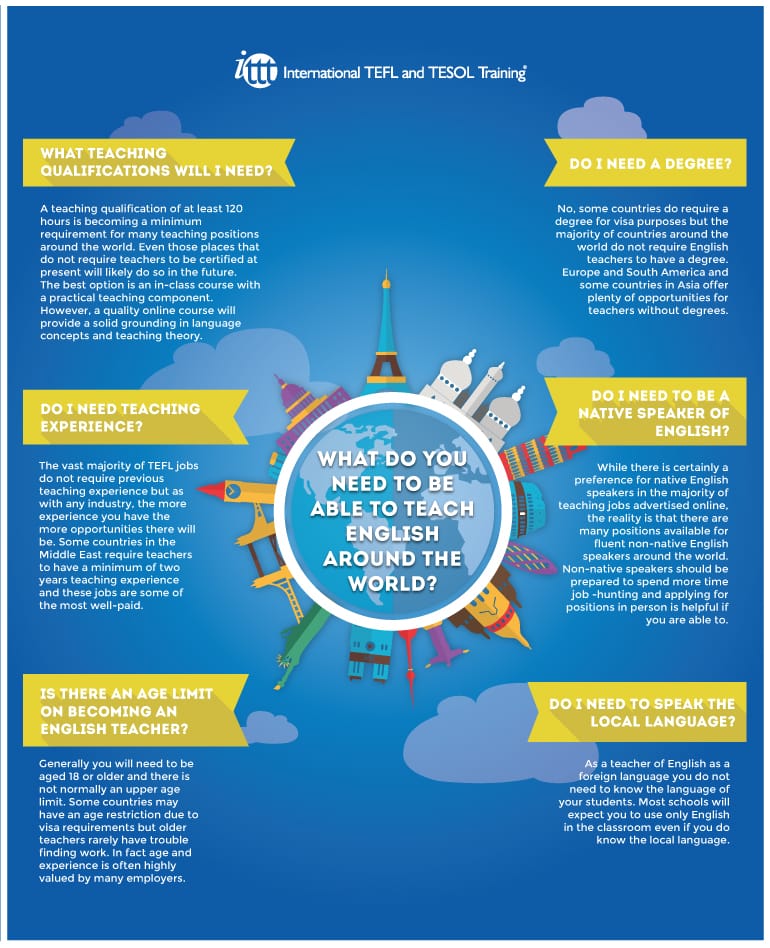 All ITTT TESOL academy certification programs are open to native English speakers and non-native speakers and there is no requirement to speak any language other than English. While there are some countries that have restrictions on hiring non-native English speakers, there are many other fascinating countries throughout the world that do not.
What kind of people become ESL teachers?
There is no single 'type' of person who aspires to be a TESOL teacher, though they do often have a number of common traits, which include:
* A passion for new experience
* An interest in other cultures than their own
* A love of travel
* A willingness to and enjoyment in, helping others

From student to teacher in six easy steps
Whatever your own personal motivation, ITTT can help make your dream of a new teaching career become a reality.

Where can I teach ESL?
Job opportunities exist in almost every country in the world for those gaining a TESOL certification. After completion of their training course, ITTT TESOL academy graduates might find work within their own country, but for many others it is necessary or preferable to look further afield. A career in teaching can vary from volunteering in a disadvantaged community to teaching in state or international schools, within private businesses or even by setting up their own language school.
Here are seven examples of popular international destinations for teaching English abroad:

How to get a TESOL certification
When deciding upon a TESOL certification course the most important thing is that you choose one that meets your own individual plans. There are many short-format TESOL certifications available online that can be completed in 60 study hours or even less. These are fine in some situations.
The internationally accepted minimum qualification is an online TESOL certification covering at least 100 hours. Although these courses may not include any teaching practice, they are still often enough to enable you to get a good entry level teaching position in many countries.
If you want to have as many options as possible, including those that offer the best salaries and other benefits, then you should consider an in-class TESOL certification program. Many In-class courses run full-time over a four week period and include teaching practice with genuine language learners. Alternatively, the ITTT TESOL academy also offers a combined course option that is split between a period of distance learning and a shorter on-site attendance.
Whichever course you decide fits your needs, you should ensure that the provider you choose meets all the following internationally recognized standards;
They should offer online courses that include at least 100 hours of training and input.
Courses meet international standards for the regulation of acceptable English language teaching certification.
They should offer in-class courses that include a minimum of 6 hours of observed teaching practice with real English language students.
All in-class trainers and online tutors must be highly-experienced and qualified professionals.
Training materials should cover vital teaching skills.
All teaching materials and training methods should be updated regularly to reflect developments in language teaching.
The end certificate should be of a high-quality and internationally recognized by employers.
Every course must be moderated and inspected by an independent teaching body or professional.
TESOL course options
To ensure we are able to provide the best option for all situations, we offer a range of courses that vary in duration, cost and method of study. However, whatever TESOL course you choose you will receive the same high-level of study materials and first-class instruction.
Our academy accredited TESOL courses come in two main formats: online certification and in-class certification. Both formats have advantages and disadvantages, but regardless of your choice you can rest assured that you will receive the best TESOL certification currently available.
This intensive course option is conducted over a four-week period at one of our international TESOL training academies. If you want the most comprehensive way to start your TESOL career then our in-class course might be perfect for you.
The major benefits of this course option are:
The opportunity to practice your teaching skills with genuine language learners in an authentic classroom environment
Immediate feedback and constructive criticism on your lessons
Direct classroom-based instruction by experienced, professional TESOL teacher trainers
When not in the classroom you are free to explore the local culture and to make new friendships with your fellow classmates.
Training in-class can often lead to job opportunities in the local area
In order to give you as much choice as possible, we offer our in-class course in multiple locations around the world. We have many options throughout the USA, plus training centers in some of the most popular destinations for TESOL in Europe, Asia and South America.
For more information, please visit our in-class TESOL course page or click on the interactive map below.
While there are many positive aspects to attending a training center to take your course, there are some aspects that might be unsuitable for some trainees. The main ones being the extra expense of this course format and the fact that you will need to travel to the location of the course. For these reasons we provide the option of flexible online courses.
Taking an ITTT TESOL academy course online has many advantages, which include;
They can be completed in your own time from any location with an internet connection.
As they are studied via 100% distance learning the overall TESOL certification cost is considerably less than for an in-class course.
All online courses include the support of an experienced online tutor to guide you through your studies.
Many courses also include an additional course free of charge and a range of informative videos to complement the written materials.
For further information, please visit our online TESOL course page.
120-hour online TESOL certification course
The 120-hour online TESOL course gives a well balanced overview of many important areas of English Language teaching. This includes an outline of the English grammar system, as it is often taught in the classroom. Further study includes classroom management skills, how to plan and create lessons for a whole range of levels and purposes and how to usefully test and evaluate your students' performance.
Standard
Course
Specifications
120 Hour Course

With Tutor Support and Video

Technical Support
Supplementary Materials
Free Lesson Plan Access
Grammar Units
Phonology Units
Video Lessons
Full Tutor Support
Free Course

CTBE,CTEYL,CTEO

Job Guidance
Lifetime
20 course units
19 accompanying videos
PDF Certificate
Embossed Certificate
Internationally Accredited

US$ 420

US$ 495

US$ 249

more infoRegister now
Teaching English Online with a 170-hour TEO Certificate from ITTT
Teaching English online is something that can be either full or part time and the ITTT 170-hour Teaching English to Speakers of Other Languages Course is perfect for those who want to be able to teach both online and in-class. Consisting of our 120-hour certification course plus the 50-hour course in teaching English online, the course is specifically designed to give you options on successful completion.
We also have a network of past graduates and recruiters who currently work with some of the biggest online teaching companies, who can assist you in your job searches.
Advanced TEFL Courses
250-hour Diploma in TESOL (DipTESOL)
If you already have a TESOL certificate and are looking for a higher level of qualification, you might want to consider our 250-hour Diploma in TESOL course.
There are several reasons why people enroll on our online Diploma in TESOL course, including:
To increase your teaching knowledge
It is a high level course
It has the potential to gain you a higher income
It can lead to a more prestigious teaching position
Our advanced online Diploma in TESOL course includes a wide variety of subjects, from material design to different learning theories, all of which are designed to give you a clearer understanding of your role as an ESL teacher.
As you make your way through the course you should find that many of your existing skills gradually improve, such as your research skills and writing ability. The course should also help you to develop many other transferable skills that you will find useful both inside and outside of the classroom.
It is possible to take the Diploma in TESOL with no previous qualifications by completing the 120-hour course first and then moving directly onto the 250-hour diploma course, giving a total study time of 370 hours.
Course
Specifications
370-Hour TESOL
Diploma Certification


With Tutor Support

Research based
11 Certification Modules
11 Research Study Sheets
11 Self Study Worksheets
Internationally Accredited
Embossed Certificate
Letter of Recommendation
Technical Support
Job Guidance
Free Lesson Plan Access
Full Tutor Support
Course Assessment
Modular Tests
Complimentary Course
Free 120-hr TESOL Course
with tutor

US$ 1390

US$ 499

more infoRegister now
TESOL course packages
We have put together two exclusive course packages that offer great value for money and an opportunity to gain an extensive level of expertise in ESL teaching.
Our course packages are:
220-hour Master Package
550-hour Expert Package
Both course packages include the 120-hour online TESOL certification course, the 50-hour course in teaching business English (CTBE), and the 50-hour course in teaching English to young learners (CTEYL). The Expert Package also includes the 50-hour course in teaching English online (CTEO), the 250-hour Diploma in TESOL, and an optional teaching practice component.
Graduates of any ITTT TESOL academy package course can choose to receive an individual certificate for each section completed or a single package certificate.
Other TESOL certification options
Combined TESOL courses
A further option that provides a compromise between the in-class and online course options is to take a combined TESOL certification course. In this case you take the full certificate in two stages. First you complete the 120-hour online course and after that you attend a training center for eight or ten days to complete your observed teaching practice.
The in-class section of the combined course is available in a variety of exciting locations, including:
Bangkok, Thailand
Barcelona, Spain
New York City, USA
Paris, France
Phuket, Thailand
Rome, Italy
Completion of both sections of the course results in an equivalent TESOL certification as the full in-class training course.
What's the difference between online, in-class and combined courses?

For more information, please visit our Combined TESOL course page.
TESOL Jobs
Once you complete your ITTT TESOL academy certification course you will be in a great position to start applying for teaching jobs in your home country or anywhere else in the world that interests you.
The demand for teachers is particularly high in the following regions and countries:
Asia
China, Japan, South Korea, Thailand, and Vietnam
Latin America
Argentina, Brazil, Chile, Costa Rica, and Mexico
Western Europe
France, Italy and Spain are among the most popular locations. Eastern Europe also attracts many teachers due to the lower cost of living.
Middle East
Saudi Arabia and the United Arab Emirates traditionally offer the highest salaries to be found anywhere in the world, however, a high level of qualifications and experience are often required to secure the best jobs in this region.
For more information on the international TESOL job market, please visit our TESOL Jobs page.

If you already know where in the world you want to teach or if you are undecided and looking for inspiration, you can also check out our tips for teaching abroad page where you will find a wide range of information on dozens of possible teaching destinations. Each country's page offers a varied selection of guides, including useful travel tips, guides to the local culture, cuisine and popular attractions, as well as some light-hearted facts that you never knew you wanted to know.
Why choose ITTT?
Here are the top ten reasons why we believe that ITTT TESOL academy offers the very best TESOL certification choices:
We have a large range of high-quality courses to meet the needs of every individual student.
You will receive the same high-level of study materials, tuition and support whichever course you choose.
Our courses are open to anyone over the age of 18 with a good standard of English language comprehension, regardless of their educational background.
A highly effective support services that is available to every trainee before, during and after their training with our academy.
Every graduate will have access to our post-course job support services.
We regularly offer exclusive special offers that include additional free TESOL certification courses when you sign up for our most popular course programs.
Our in-class course offers a wide choice of exotic and exciting locations around the world.
Our online courses offer convenience as they can be studied from any location in the world with an internet connection.
At ITTT TESOL academy we are affiliated to and accredited by some of the leading individuals, institutes and schools in the language teaching field.
Accreditations
Lamar University (in-class courses)
All TEFL International courses are validated and credit-bearing by Lamar University in the USA. Lamar University is a public university in Beaumont, Texas. Part of the Texas State University system, Lamar University is also accredited by the Southern Association of Colleges and Schools.
Paris University of International Education (in-class courses)
Each in-class graduate receives an official transcript from the Paris University of International Education with their TEFL International Certificate. Paris University of International Education is approved as a higher education establishment and is recognized by the Paris Academy as degree-granting.
Paris University of International Education (online courses)
The certificates gained by completing an online course with ITTT are the only 100% online TEFL/TESOL certificates available that are validated, accredited and credit bearing from an internationally-recognized university. The credits earned from PUIE have been transferred successfully to universities all over the world. In the US, credit evaluation services consider PUIE to be in the same bracket as a US regionally-accredited university.
Teacher Training Council (five-day combined courses)
Five-day combined courses are moderated by the Teacher Training Council, an international learning and development body.
IATEFL - International Association of Teachers of English as a Foreign Language
ITTT is an institutional member of IATEFL. IATEFL is one of the most thriving communities of ELT teachers in the world. Its mission is to "Link, develop and support English Language Teaching professionals worldwide". With its global reach, IATEFL encourages teachers of English around the globe to share ideas and philosophies via regular newsletters and conferences. Our IATEFL membership number is 16020. For more information on IATEFL, please visit: www.iatefl.org.
Testimonials
While we are confident that ITTT offers the very best TESOL certification programs currently available, don't just take our word for it. Why not visit our TESOL certification reviews page to see what our graduates think about us, our courses and their own unique experience earning a qualification with ITTT?
You can also take a look at this video which features newly qualified ESL teachers from all corners of the world speaking about their training experience and how gaining a qualification with ITTT TESOL academy has had a positive impact on their lives and teaching careers.
ENDBODY